Laskin Road Annex RFP #ED-21-01
Laskin Road Annex RFP #ED-21-01
Laskin Road Annex RFP #ED-21-01
Request for Proposals: (RFP #ED-21-01)
Development Site for Purchase: 1413 Laskin Road, Virginia Beach, VA 23451
I. Overview

Real Property

One parcel of land on Laskin Road, in the City of Virginia Beach, Virginia (GPIN: #24171837720000). (See Exhibit A below)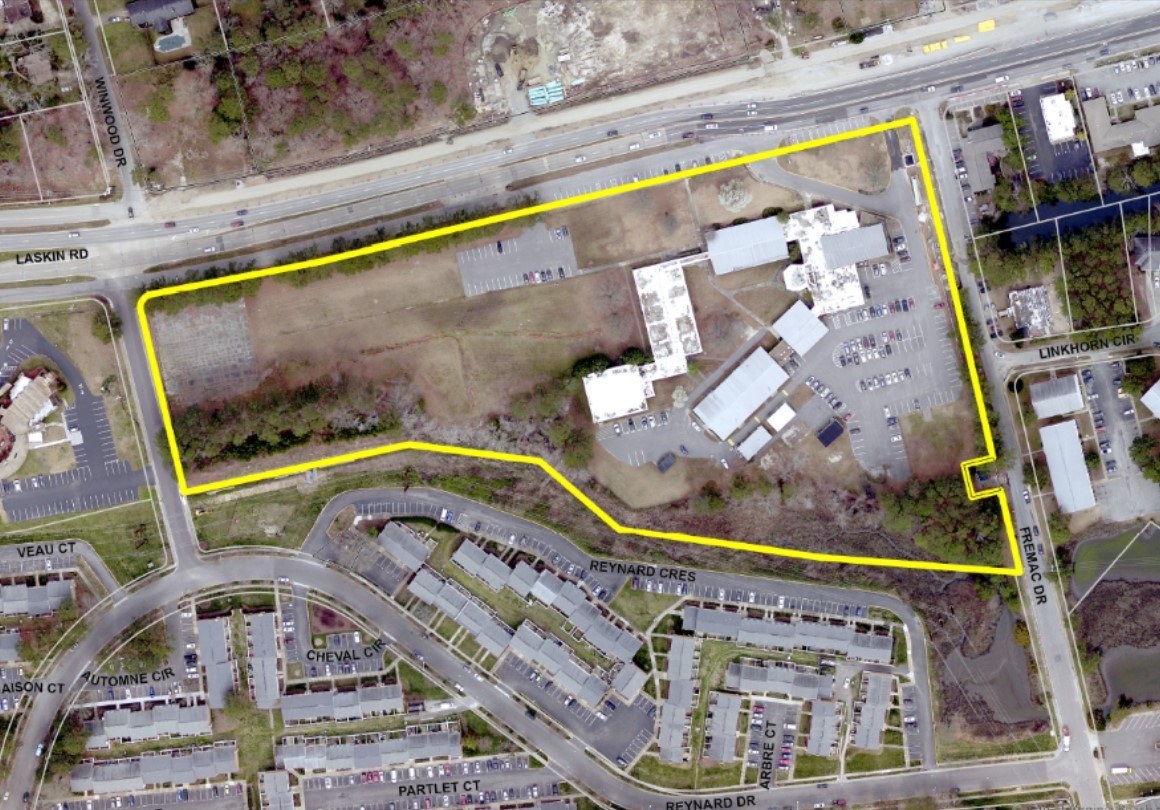 Purpose
The City of Virginia Beach Economic Development (VBED) department is seeking proposals from qualified respondents to purchase the property for development.
Specifications
The estimated land area is 12.41 +/- acres.
Background
The property was formally Linkhorn Park Elementary School and is located near I-264 and adjacent to the Hilltop Business District, which is primarily known as the high-end shopping and dining corridor of Virginia Beach. ​
Zoning
A-12 (Apartment District)
II. Future Use
The VBED requests qualified (see section III. a. for qualification criteria) persons/companies submit proposals to state their intended purpose for the use of the land. Qualified respondents should include in their responses (1) the purchase amount they are willing to pay and (2) a description of how the property would be used and designed.
III. Proposal Requirements
a) Respondent Qualifications
Experience – Qualified respondents will have experience in the type of development proposed.
Insurability – Qualified respondents shall have the minimum insurance requirements listed below:
| | |
| --- | --- |
| FORM | LIMITS |
| Workers' Compensation | Statutory |
| Automobile Liability | $1,000,000 Combined Single Limit |
| Commercial General Liability | $1,000,000 Combined Single Limit |
Responder can have no outstanding debts or claims against the City at the time of execution. ​
b) Submittal of Proposals
Each respondent must submit with their proposal the items listed​ below:
Five copies of each proposal in a sealed envelope marked "RFP # ED-21-01, Laskin Road Annex." on the outside.
All proposals shall be received and date-stamped in the location described below no later than August 19, 2021, 3 p.m. local time. All proposals received after that time will not be considered and will be returned unopened to the respondent.
Location for submissions: ​
​City of Virginia Beach Attention:
Kathy Warren
Department of Economic Development
4525 Main Street, Suite 700
Virginia Beach, Virginia 23462
Proposals submitted by telephone, facsimile, or e-mail will not be considered. ​
IV. Contents of Proposal
Respondents must include in their proposal the following documents and information which will be used as scoring criteria: ​
A description of the proposed use of the property including a concept plan for the property;
A description of your relevant experience;
Estimated capital investment;
Targeted timeline to construct improvements;
Proposed purchase price;
Demonstrated financial capability to complete the proposed project;
Evidence of insurability at limits described above and a copy of your current insurance coverage; and
Anticollusion Form as referenced in the RFP document page 4
Open House
Two open houses are planned for July 7 and 14 from 9 a.m. to 3 p.m. The open house format is: enter the building at the main entrance, sign in and walk the building, then sign out. The outside is open and can be walked freely at any time.
Related Documents
Helpful Links
Frequently Asked Questions