Digital Port
The subsea cable industry is still connecting continents, countries, and cities and Virginia Beach has the infrastructure for the digital economy.
The Virginia Beach MSA has long been known for two world-class assets: the largest military community in the USA and the Port of Virginia, a key gateway for global commerce. Virginia Beach is now a digital port, shipping data at the highest speed possible around the world and laying the infrastructure to handle the influx​ of digital traffic. View the current submarine cable map from TeleGeorgraphy.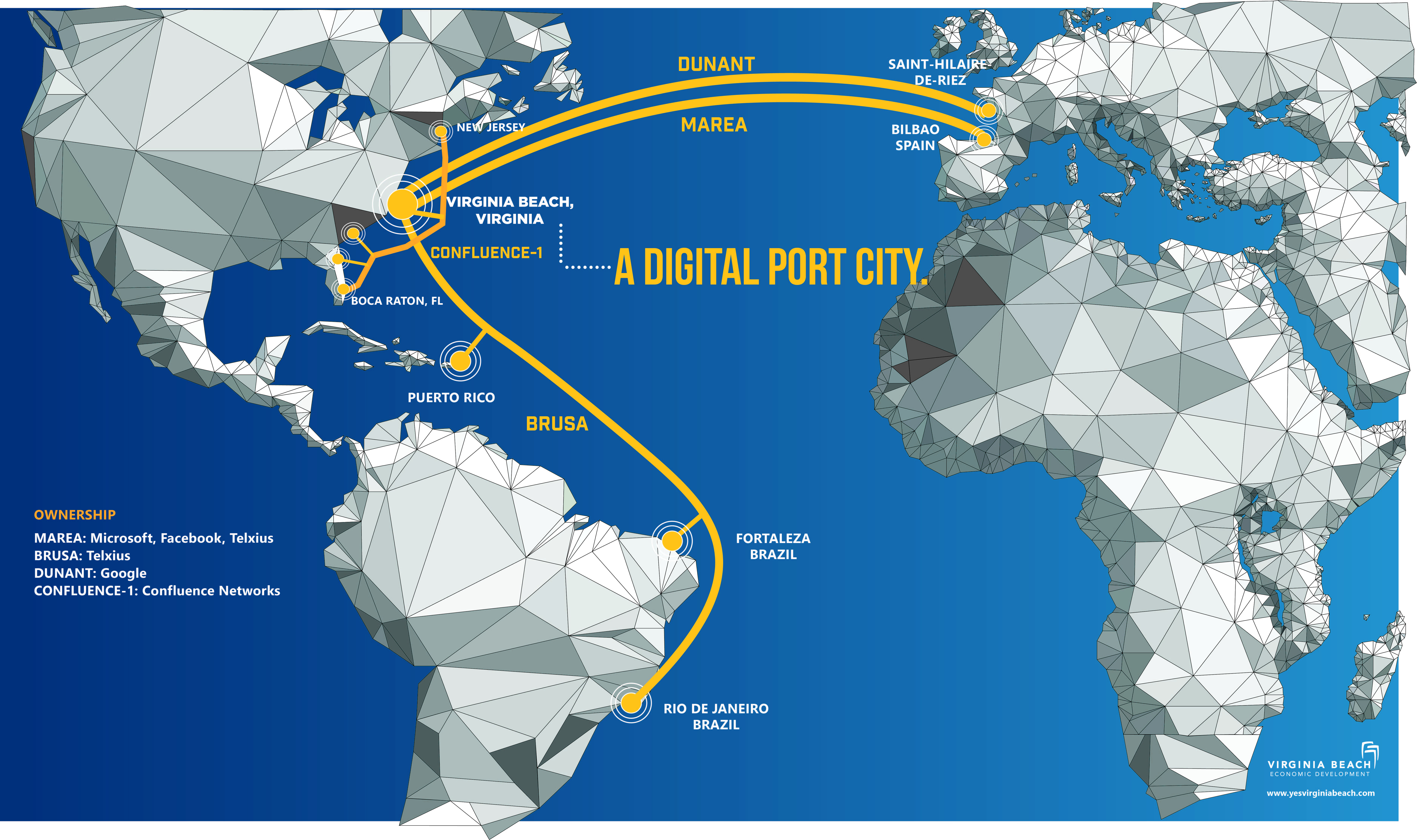 Key Developments:


Telxius completed construction of a 24,000-square-foot cable landing station

Globalinx Data Centers opened a 10,750 square feet carrier-neutral data center campus with Phase II underway

​Corporate Landing Business Park received Dominion Energy-certified data center status

The City of Virginia Beach reduced tax rates for data center equipment ​
PointOne, an international-hyper scale data center developer, is investing $80 million.

Corporate Landing Business Park was rated a Tier-4 site by VEDP
Available sites are outside the 100-year flood area (see this certification)
Confluence - 1: A proposed undersea cable system linking the largest recently installed cable landing stations on the East Coast of the United States.
The world's highest capacity submarine cable, Dunant, with its record-breaking 12 pairs and capacity of 250 Tbps was deployed in 2021.
An extension of the Brusa cable, called "Junior" will provide a direct extension to the lower part of South America.
Regional connectivity ring is planned to be completed by December 2024.
New subsea cable landing site at Sandbridge was announced by Globalinx; to be completed by the third quarter of 2023
Interesting Facts

The cable Dunant is named in honor of the Swiss businessman and social activist Jean-Henry Dunant, the founder of the Red Cross and the first recipient of the Nobel Peace Prize.