Town Center
Town Center: a sophisticated blend of lifestyles.
Town Center, an emerging downtown core in the heart of Virginia Beach's Central Business District, features a vibrant urban mix of upscale retail, Class A office space, luxury residential units, entertainment, and cultural facilities. The ongoing mixed-use development encompasses more than 800,000 square feet of Class A office space, and 700,000 square feet of upscale retail, dining, and business-class hotels.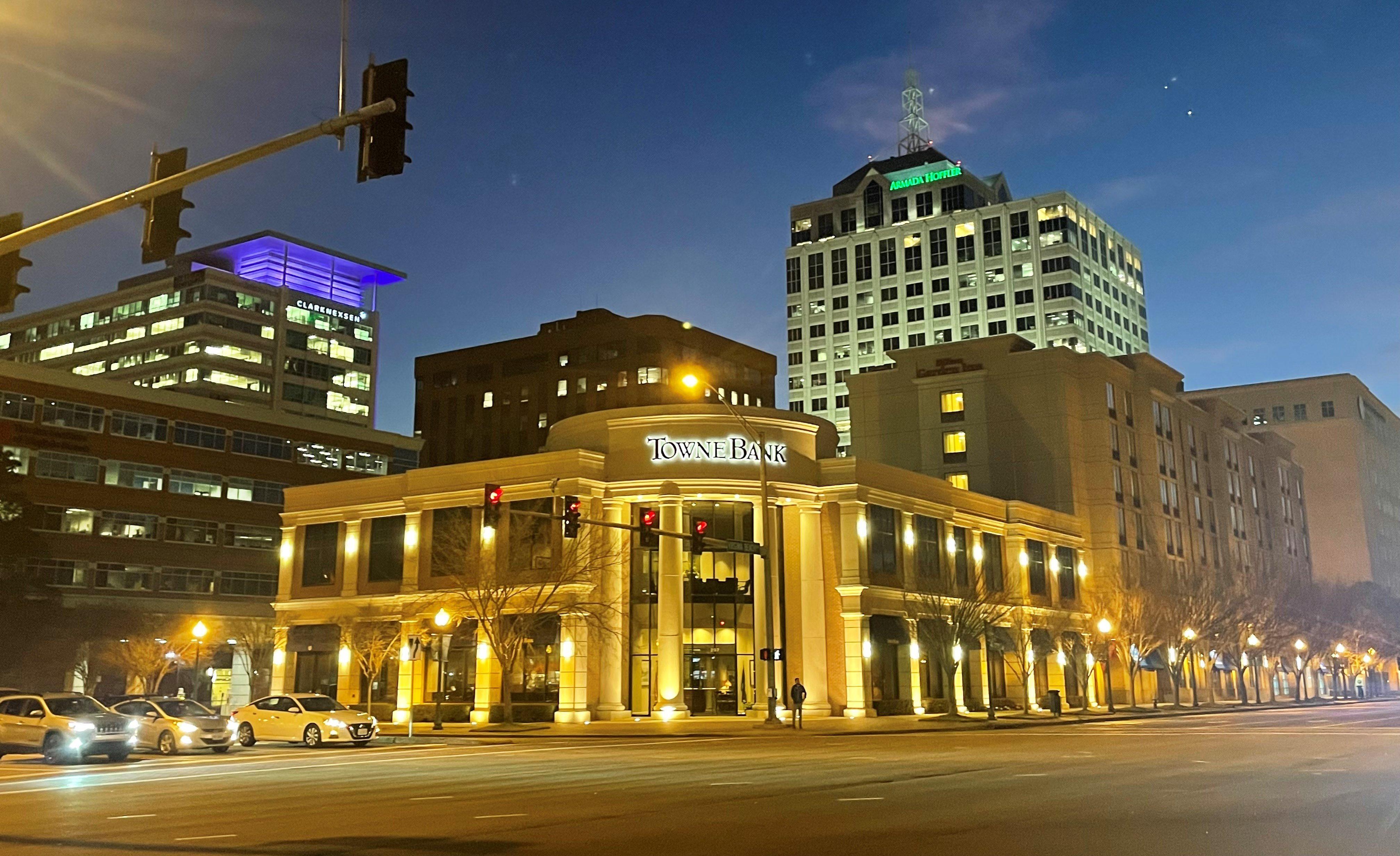 The development spans 17 city blocks and encompasses 25 acres midway between downtown Norfolk and the Oceanfront. It's home to the tallest building in Virginia, The Wes​tin Virginia Beach Town Center, the Sandler Center for the Performing Arts, the Funny Bone Comedy Club, and Restaurant, and Zeiders American Dream Theater.
What is upcoming?

The construction of a Class A office tower (also known as Block 2 Office Tower) is planned for the last remaining block in Town Center. This 16-story, glass and brick addition, will add to Town Center 235,000 square feet of office space, additional retail, and parking for tenants and guests.
To date, Armada Hoffler invested nearly $500 million in the Town Center of Virginia Beach in addition to ​$108​ million of public investment.

The developer of Pembroke Mall is embarking on a multi-phased redevelopment plan for the 54-acre mall which will include 158 residential units, 126 independent living apartments, a new-to-market hotel brand as well as multi-family, upscale housing and high-rise office towers. This $160 million redeveloped project is expected to open in 2024.
Notable Facts (​2023​)​
Office: 813,241 square feet
Restaurants: 134,310 square feet

Retail: 401,776 square feet

Residential: 815​ ​units ​

Hotel Rooms: 562 (including 150 proposed Hampton Inn)

Free Parking: 4,616​
Source: City of Virginia Beach Economic Development
​Other major tenants in Town Center include Armada Hoffler, HBA Architects, Troutman Sanders, Clark Nexsen, Divaris, Mythics, Williams Mullen, Ruth's Chris, and Apex Entertainment. Town Center's success has also attracted a raft of new national retailers, including Anthropologie, lululemon athletica, Free People, Wegmans, West Elm, and DryBar.
It's been 24 years since the city and developers broke ground on Town Center. Today, Town Center generates more than $8 million a year in business taxes, which include a business license, business property, trustee, and general sales taxes. This project is an excellent example of a successful public-private partnership.
At the heart of Virginia Beach's Central Business District, the Virginia Beach Town Center is an eclectic urban mix of business, entertainment, cultural and retail facilities.