Strategic Location
In 2019, Business Facilities magazine ranked Virginia Beach among the "Top 10 Mid-Sized Cities With the Best Economic Growth Potential."
The Region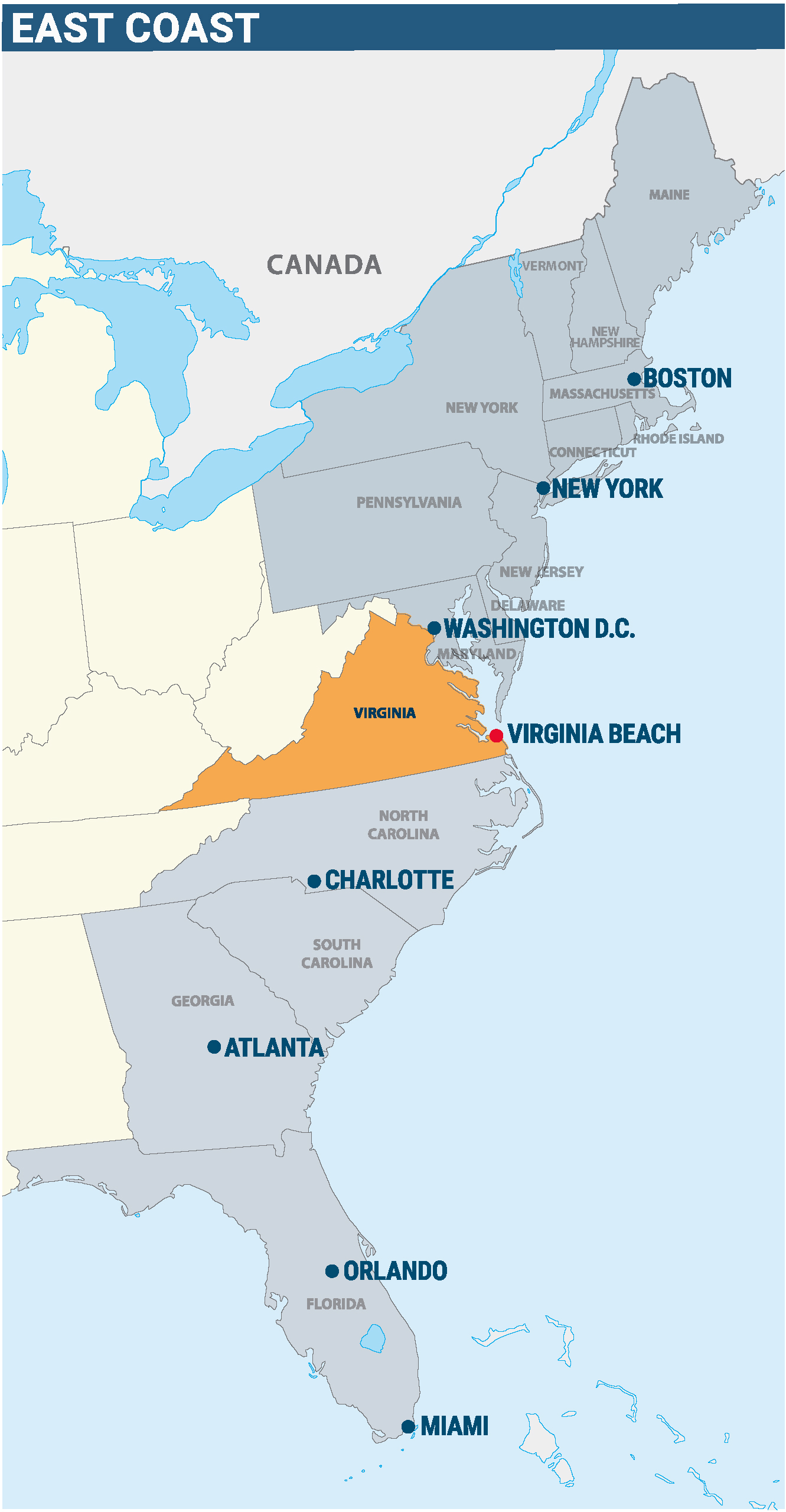 Officially the Virginia Beach-Norfolk-Newport News, VA-NC Metropolitan Statistical Area (MSA), but also known throughout the years as Tidewater, Hampton Roads, Coastal Virginia, and more recently the "757," the Virginia Beach MSA is the 37th largest in the United States, with a population of nearly 1.8​ million.
The market encompasses 16 cities and counties including the cities of Chesapeake, Hampton, Newport News, Norfolk, Poquoson, Portsmouth, Suffolk, Virginia Beach, and Williamsburg, and the counties of Gloucester, James City, Mathews, Isle of Wight, Surry, and York and the North Carolina county of Currituck. For more information on the region, visit the Hampton Roads Economic Development Alliance.
This region of the East Coast is a gateway for international exploration and expansion with the Port of Virginia is now a tier-one digital port city and emerging global innovation hub. The world's fastest subsea cables, installed by Microsoft, Facebook, Telxius and Google connect Virginia Beach to Europe and South America. One additional subsea cable, Dunant, owned by Google, connected Virginia Beach to Europe in mid-2021. Currently, Dunant is the world's highest capacity submarine cable, with its record-breaking 12 pairs and capacity of 250 Tbps. In an increasingly connected world, these cables are key assets for global communications in terms of low latency, resiliency, reliability, flexibility, and greater capacity.
Virginia, and more specifically Virginia Beach, has significant potential for the development of offshore wind resources off its coast. Learn more about the offshore wind development projects here.
The City​​
Virginia Beach is the most populous city in Virginia and the 43rd​ largest city in the United States, with approximately 460,000 residents.
The City encompasses 310 square miles with 38 miles of the Chesapeake Bay and Atlantic Ocean beaches.


| | |
| --- | --- |
| Land | 258.7 sq. miles (670 km2) |
| Water | 51.3 sq. miles (132.8 km2) |
| Beaches* | 38 miles (the Atlantic Ocean and the Chesapeake Bay) - 61 km |
| Average Elevation | 12' above sea level (3.6 meters) |
Source: City of Virginia Beach Center for GIS, 2022
Virginia Beach has a unique environment offering more than 100 miles of bikeways promoting healthy lifestyles and community connectivity. Within minutes, residents and visitors have access to the popular oceanfront resort area, bountiful wildlife preserves and parks, vibrant financial districts, urban amenities, pastoral rural areas, distinctive cultural centers, exciting museums, a variety of military facilities, and neighborhoods as diverse as the people who call the City home. For more information on the City, visit https://virginiabeach.gov/.​​
Distances From Other Cities
Virginia Beach's strategic mid-Atlantic location and superior transportation network provide swift access to domestic and foreign markets. More than two-thirds of the nation's population and marketplace are within 750 miles of the city.



| CITY | MILES | KILOMETERS |
| --- | --- | --- |
| Atlanta, GA | 610 | 982 |
| Charleston, SC | 460 | 740 |
| Chicago, IL | 900 | 1,448 |
| Denver, CO | 1,800 | 2,897 |
| Detroit, MI | 725 | 1,167 |
| Los Angeles, CA | 2,725 | 4.385 |
| Miami, FL | 980 | 1,577 |
| Minneapolis, MN | 1,310 | 2,108 |
| New York, NY | 360 | 579 |
| Philadelphia, PA | 270 | 435 |
| Raleigh, NC | 200 | 322 |
| St. Louis, MO | 930 | 1,497 |
| Washington, D.C. | 210 | 338​ |
Source: City of Virginia Beach Economic Development, 2022