Thrive @ The HIVE
The City of Virginia Beach has launched a new program, Thrive @ The HIVE, designed specifically to support local entrepreneurs and to foster the City's entrepreneurial ecosystem.
Thrive @ The HIVE offers workspace and various business resources at no cost to eligible Virginia Beach entrepreneurs to help them succeed and grow.

The Thrive @ The HIVE program is open to Virginia Beach startups, home-based businesses, and
Hampton Roads military spouse entrepreneurs.
Program participants have access to free workspace at The HIVE for two business days a week for a
period of two months, in addition to all the resources The HIVE has to offer.
The Virginia Beach Department of Economic Development encourages interested parties to consider this program if their business meets eligibility criteria.
Complete this application to be considered for the Thrive @ The HIVE program.



The HIVE is conveniently located in the Town Center of Virginia Beach at
140 Independence Blvd., Suite 100.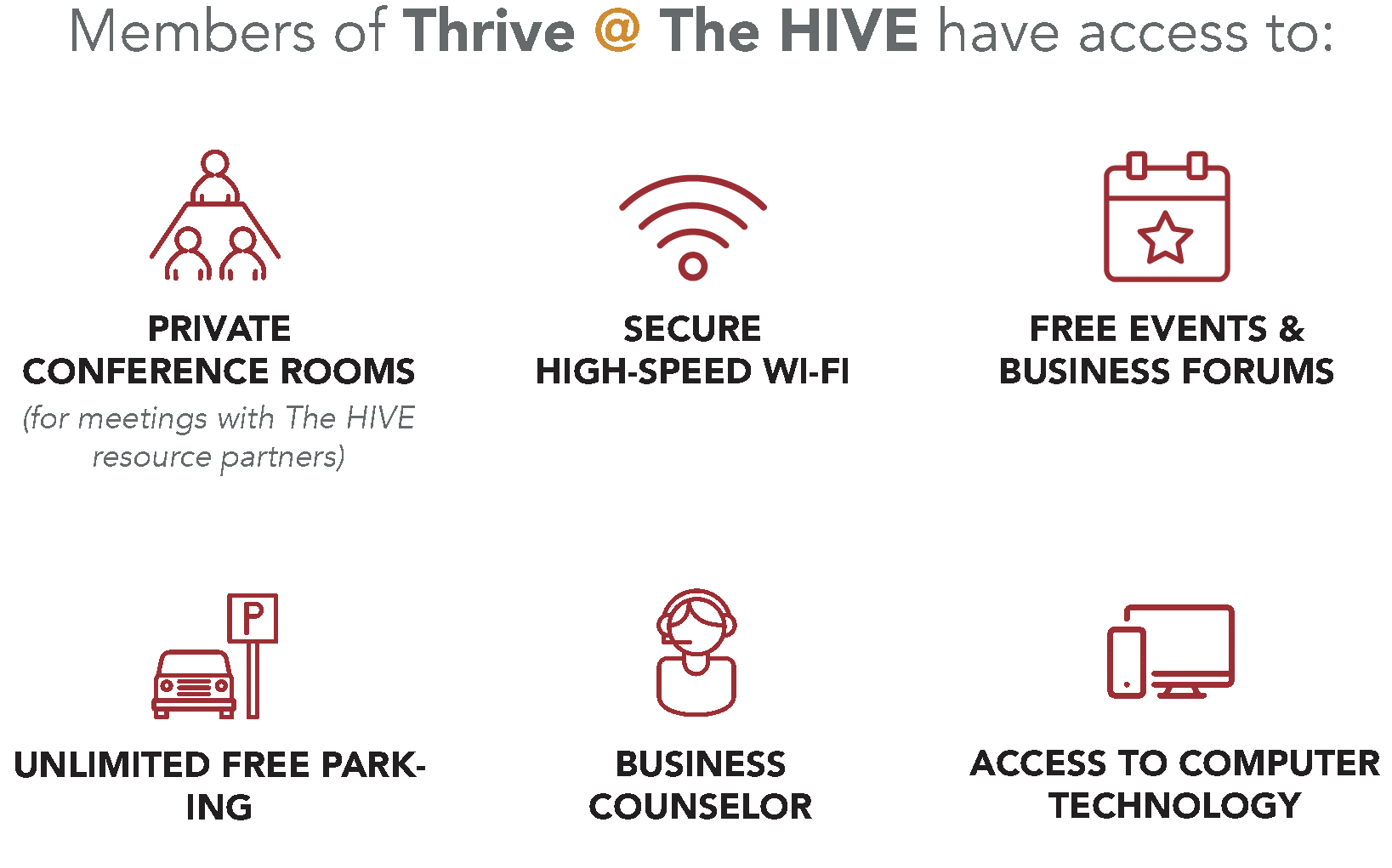 Members of Thrive @ The HIVE Gain Access to Networks
Members have access to The HIVE's extensive network of organizations and strategic partners including:


Virginia Beach SWaM business office (for small, women and minority-owned businesses)
Virginia Department of Small Business & Supplier Diversity
agency (SBSD)
Women's Business Center (WBC) at Old Dominion University (ODU)
Hampton Roads Workforce Council
Hampton Roads Small Business Development Center
Veterans Business Outreach Centers (VBOC)

Virginia Beach City Public Schools - Entrepreneurship and Business Academy
Virginia PTAC

Urban League of Hampton Roads
Educational support at VWU and TCC
Legal partners: Poole Brooke Plumlee PC
Banking partners: Fulton Bank, Langley Federal Credit Union
Business Development Center at ODU
SCORE - Hampton Roads Chapter
Virginia Beach Public Library
Local Initiatives Support Corporation (LISC)
Thrive @ The HIVE and The HIVE
Building Businesses from the Ground Up:
Thrive @ The HIVE is a city-funded initiative that aims to bolster the local entrepreneurial ecosystem and stimulate economic growth by offering essential resources to individuals who qualify for the program. The program builds on the foundation that The HIVE, launched in 2021, brings to entrepreneurs in our community. The HIVE offers early-stage businesses an opportunity to grow and scale, acting as a one-stop-shop resource center, networking and knowledge hub—a springboard to success.
Together, these programs demonstrate the City of Virginia Beach's commitment to supporting and promoting an entrepreneurial ecosystem.
Thrive @ The HIVE Eligibility Criteria
Thrive @ The HIVE is offering a workspace at no cost to existing Virginia Beach entrepreneurs who meet
at least one of these categories:
Virginia Beach startup (early phase).
Home-based business with a current business license.
Hampton Roads military spouse entrepreneurs.
Eligible candidates must complete the Application Form and agree to the program participation requirements which include obtaining referrals from three partners at The HIVE and participating in two required trainings/workshops.
If you are not eligible to participate in the Thrive @ The HIVE program, please visit The HIVE webpage to check out other resources and networking opportunities that may be applicable to your business.